Unrivalled expertise
We're a team of award winning digital experts and software engineers who recognise that whilst marketing your business should be easy, so often the best technologies available are either too complicated to learn or too expensive to use. Using our background in building digital platforms, our goal was to help companies take the emails they send everyday and transform these into opportunities to promote and win more business.
Professional
standards
Our co-founder Daniel Lack, sits on the DMA Email Council, and chairs their prestigious Email In Practise hub. This position allows us, along with other leading experts, to help shape and influence how email marketing is being used and the legislation surrounding it.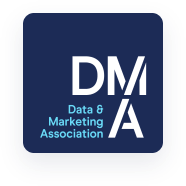 Leadership
Co-founded by Daniel Lack and Stephen Phillips, Branded Email's team of digital experts are focussed on using the latest technology to help businesses get more from the hundred's of emails their employees send everyday.
Branded Emails is made up of a team of digital specialists, customer service executives, designers and software engineers.